Vietnam National Space Center attended the 31st Committee
on Earth Observation Satellites (CEOS) Plenary
From 18th to 20th October 2017, Dr. Pham Anh Tuan, General Director of Vietnam National Space Center (VNSC), Vietnam Academy of Science and Technology (VAST) attended the 31st CEOS Plenary organized by United States Geological Survey (USGS) in Rapid City, South Dakota, USA.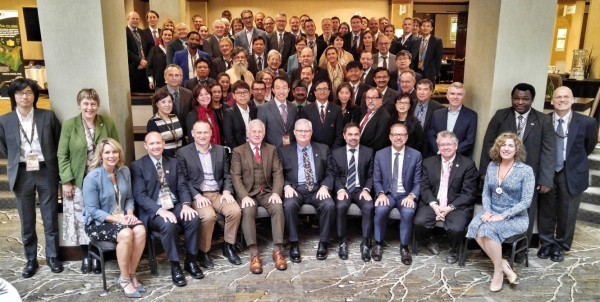 Participants of the 31st CEOS Plenary
More than 60 agencies and organizations from Vietnam, Japan, Italy, South Africa, the United States, Australia, Canada… attended the Plenary cooperating to develop satellites and applications. One of the main initiatives of CEOS is making satellite data become easier to be accessed in order to meet the specific application demands.
This year, the conference witnessed CEOS Chairman flag handing over from USGS to the European Commission (EC). The 32nd CEOS Plenary will be taken place from 16th to 18th October 2018 in Brussels, Belgium.
In addition to the reports from organizations and working groups about 2017 activities, the Plenary marked an important milestone for Vietnam: VAST / VNSC officially joined Troika * to prepare for the host of CEOS 2019. At the conference, Dr. Pham Anh Tuan affirmed that VAST / VNSC is ready to take on the task of operating CEOS and cooperating with USGS and the European Commission to prepare for the next Chairman term.
* Troika: is a group of three organizations, including the former, current and the next CEOS Chairman. These organizations will work closely to help each other perform the job of CEOS Chairman effectively and successfully.