In the effort to strengthen Vietnam contribution in the Committee on Earth Observation Satellites (CEOS) and to promote leadership diversity by rotating the CEOS Chair responsibility among major geographic regions such as America, Europe, Africa, Asia Pacific; on October 18, 2018, in Brussels (Belgium), Assoc. Prof. Dr. Pham Anh Tuan – Director General of Vietnam National Space Center (VNSC), Vietnam Academy of Science and Technology – represented Vietnam Academy of Science and Technology to take the Chair of the Committee on Earth Observations Satellites for the term of 2019 – CEOS Chair 2019.
CEOS members participating CEOS Plenary in Brussels, Belgium from October 16 to 18, 2018
CEOS was established in September 1984 carrying out the missions of ensuring tight connections in international cooperation on civil space earth observation programmes and encouraging satellite data exchange in order to optimize social benefit and to support decisions for a sustainable and prosperous future of mankind. CEOS main targets include:
Optimize benefit from space-based earth observation through CEOS agencies collaborations in missions planning and policy making as well as in applications, services and data products developments;
Support CEOS Agencies and end-user community by acting as an intermediary in promoting international cooperation in space-based earth observations, including Group on Earth Observation (GEO) and climate change related organizations;
Exchange technology and policy in order to encourage amendment and compatibility between on-going and in development earth observation systems and between the data acquired from these systems as well as to work on the common interests of all earth observation satellites missions.
At current time, CEOS has 32 members, including National Aeronautics and Space Administration (NASA), European Space Agency (ESA), Centre national d'études spatiales (CNES), UK Space Agency (UKSA), Russian State Space Corporation Roscosmos (ROSKOSMOS), Japan Aerospace Exploration Agency (JAXA), European Commission (EC), United States Geological Survey (USGS), National Oceanic and Atmospheric Administration (NOAA), Commonwealth Scientific and Industrial Research Organisation (SCIRO), European Organisation for the Exploitation of Meteorological Satellites, etc. and 28 associate members such as The United Nations Educational, Scientific and Cultural Organization (UNESCO), Food and Agriculture Organization of the United Nations (FAO), United Nations Environment Programme (UNEP), United Nations Office for Outer Space Affairs (UNOOSA).
Since 2013, Vietnam Academy of Science and Technology has been CEOS official member and assigned Vietnam National Space Center to be the contact point.
During 2019 term, as CEOS Chair, Vietnam will carry out its missions:
Play major role in coordinating strategies of current and future missions of CEOS Agencies, continue to support the Group on Earth Observation (GEO);
Coordinate with Strategy Implementation Team (SIT) Chair and the Secretariat (CEOS SEC) to build, communicate and encourage contributions from CEOS members, partners and relating parties in CEOS earth observation activities;
Coordinate supporting activities for relating parties such as GEO, United Nations Framework Convention on Climate Change (UNFCCC), International Strategy on Disaster Mitigation, United Nations Convention on Biological Diversity, Global Climate, Oceans and Land Observation System, Group of Eight/ Group of Twenty.
Organise and host the following meetings to announce, evaluate and implement CEOS activities: CEOS 2019 Plenary, monthly SEC meetings, Troika meetings and others if necessary;
Pay attention to activities of CEOS Principal and Vice Principal, CEOS Working Groups in order to ensure efficiency and continuation.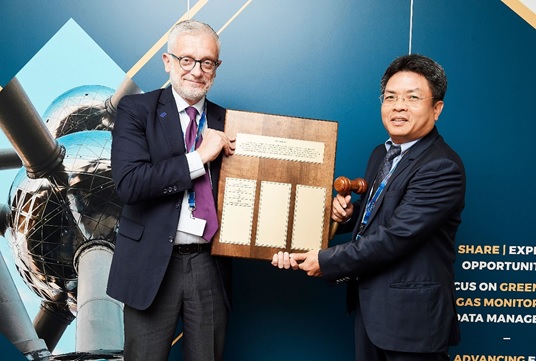 Assoc. Prof. Dr. Pham Anh Tuan representing Vietnam Academy of Science and Technology to
be CEOS Chair 2019
According to Assoc. Prof. Dr. Pham Anh Tuan, Director General of Vietnam National Space Center, as CEOS Chair in 2019, Vietnam will propose two initiatives:
Carbon Observations, including forested regions: to coordinate EO observations to support the effective monitoring and management of the forests in the region, through its Ad Hoc Space Data Coordination group for GFOI, in support of the development of national forest monitoring and measurement, reporting and verification (MRV) systems. For the countries in the region (Vietnam, Thailand, Lao PDR, Cambodia, Myanmar) which have fast changes in their forests for conversion in agriculture, in industrial tree plantations, and in reforestation programs, there is a need to develop Near Real-Time Monitoring system with dedicated User needs assessment. In particular, the open CEOS DataCube at VNSC (Vietnam DataCube), with the collaboration of FIPI (Vietnam Forest Inventory and Planning Institute), will be used to demonstrate an approach for Carbon Stock assessment of forests to support UNFCC reporting and can be expanded to other tropical regions. This will be done in coordination with the CEOS partners in GFOI.
Observations for Agriculture: in line with the CEOS Ad Hoc WG on GEOGLAM, and within the GEOGLAM Asia-Rice regional network, a key focus will be addressed on the practical use of CEOS data, especially SAR for rice crop monitoring in Asia. At the Vietnam DataCube (VDC) meeting in March 2018, demonstration of rice monitoring system has been done, in cooperation with CESBIO-CNES. This is in line with the 2018-2020 CEOS Workplan item Agri-8. VNSC will pursue the rice monitoring activities for Vietnam. As a CEOS agency, ESA has extended the GEORICE project to demonstrate monitoring activities to wall-to-wall country-wide for 5 countries in the region (Vietnam, Thailand, Lao PDR, Cambodia, Myanmar). Under this thematic applications, Asia-Rice Technical Demonstration Sites (such as in the Mekong and Red River Deltas) will join the JECAM network.
These applications are practical in evaluation of Vietnam agriculture development and will be expanded into countries in the Mekong delta region. In the 32nd CEOS Plenary, Vietnam has got support and commitment from CEOS Agencies on its two initiatives, particularly in satellite data sharing, human resources training and opportunities to join potential projects and thematic topics.
CEOS Plenary 2019, hosted by Vietnam, will take place in Hanoi, from October 14 to 16, 2019./.