On June 25, 2019, the Space Application For Environment – SAFE 2019 Workshop was jointly held in Hanoi by Vietnam National Space Center (Vietnam Academy of Science and Technology) and Japan Aerospace Exploration Agency – JAXA
Attending the workshop there were Dr. Vu Anh Tuan, Vice Director General of Vietnam National Space Center and representatives from related agencies and departments in Vietnam as well as experts from Japan, Australia, India, Indonesia, Thailand, Malaysia, Cambodia, Singapore, and Asian Development Bank.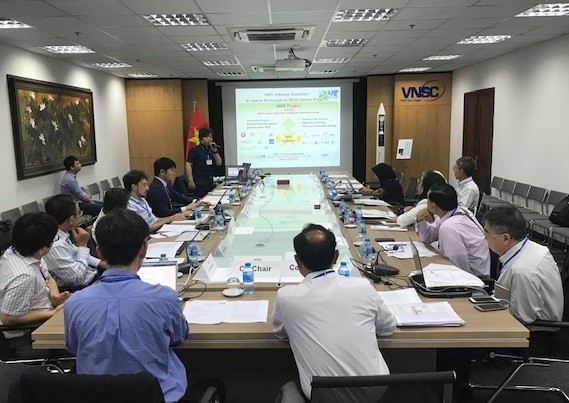 SAFE Executive Board discussing new Term Of Reference on June 25 morning session
The workshop was organized to promote international collaborative in space application, especially within Asia-Pacific region.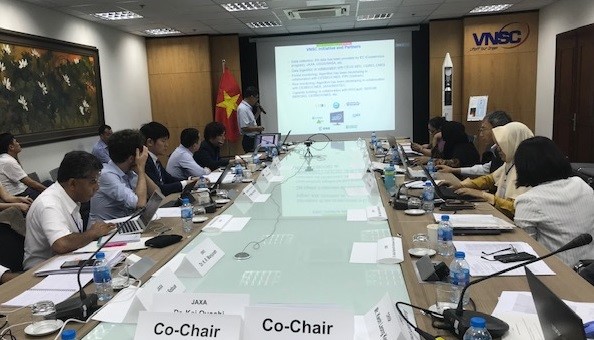 Dr. Vu Anh Tuan giving presentation
During the workshop, the SAFE Executive Board, under Asia-Pacific Regional Space Agency Forum (APRSAF), had discussions on the SAFE new Term Of Reference (TOR), the progress of Agromet – project on agriculture meteorological information, the proposal on ASEAN regional Rice Crop Monitoring project.
Dr. Lam Dao Nguyen – Director of Ho Chi Minh city Space Technology Application Center – STAC (Vietnam National Space Center) and Dr. Kei Ohyoshi – Japan Aerospace Exploration Agency were co-chairs of the SAFE workshop.
The main topics of the workshop include results of several SAFE projects such as Smoke haze monitoring in Indonesia, Rice crop monitoring in Cambodia, and related reports on space technology application in space agencies in India, Thailand, Indonesia and Vietnam as well as reports on projects sponsored by the Asian Development Bank. Attendees and delegates were very enthusiastic in joining discussions and proposing new research ideas throughout the workshop.
Group photo in front of Vietnam National Space Center
The next SAFE workshop will be in November, 2019 in Nagoya (Japan) within the concept of the 26th Asia-Pacific Regional Space Agency Forum (APRSAF-26).