On March 23rd 2017, Vietnam National Satellite Center – Vietnam Academy of Science and Technology held the workshop "Recent development and implementation plan 2017-2022 of Vietnam Space Center Project" in Hanoi.
Speaking at the workshop, Assoc. Prof. Dr. Pham Anh Tuan, Director of VNSC shared: "After 5 years of implementation, VNSC has followed closely the satellite development plan and archived many important milestones such as human resources, satellite projects, etc.. It is expected that in 2022 Vietnam will produce its own satellite and become one of the leading countries in the region in this field."
Step by step proactively manage human resources…
One of the issues which space industry in Vietnam is currently facing is the limitation in both quantity and quality of space specialist. In fact, there is a few universities and research institutes in Vietnam participating in undergraduated and postgraduated training for this field study while the demand for human resources to conduct national research and application programs in this field is enormous. To step by step overcome these difficulties, VNSC has effectively strengthening the human resources in the current years to serve the development of Space technology in Vietnam.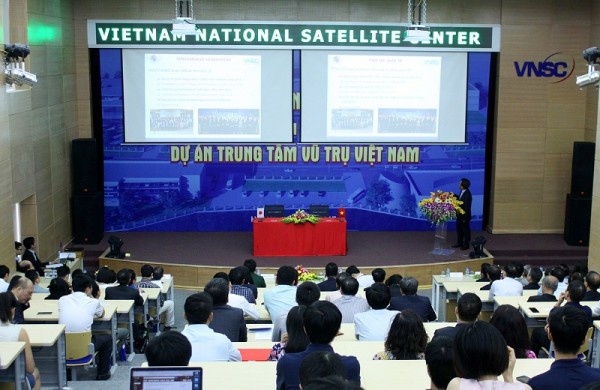 The workshop "Recent development and implementation plan 2017-2022 of Vietnam Space Center Project"
In particular, there were only 31 staff when VNSC was established but after 4 years of operation, the number has increased to 132 staff, including 13 doctors and 47 masters. In order to prepare for the operation of the Vietnam Space Center Project with the requirement of approximately 300 high-quality members by 2022, VNSC has continuously sent its engineers to 5 Japanese universities to study Master program  in Aerospace Technology as well as participate in designing, manufacturing and testing satellite MicroDragon 50kg under the direct guidance of Japanese professors. Currently many satff have completed the courses and are working at VNSC to prepare for receiving and operating LOTUSat-1.
VNSC's officials assembled MicroDragon satellite in Japan
In preparation for the goal of self-training human resources in the near future, VNSC has signed agreements with 3 universities in Vietnam (University of Science and Technology Hanoi; University of Technology under Vietnam National University, Hanoi; International University under Vietnam National University, Ho Chi Minh City) on space science and technology training. VNSC also signed memorandum of understanding with 5 leading universities of Japan in coordinating to train Master of Space Technology for the project.
"Through this project, Vietnam will have a modern space technology infrastructure, step by step master the Earth observation small satellite technology and be able to train a team of young qualified staff in the field of space technology.", – Academic Prof. Châu Văn Minh, President of Vietnam Academy of Science and Technology stated.
… to improve the capacity of satellite technology application and manufacturing
Assoc. Prof. Dr. Pham Anh Tuan, Director of VNSC shared that VNSC has successfully developed PicoDragon satellite (1 kg). In the near future, VNSC will continue to implement projects of manufacturing NanoDragon (4-6 kg), MicroDragon (50 kg) and LOTUSat (600 kg). MicroDragon of Vietnam is expected to be launched into the orbit by a Japanese missile in 2018.
As scheduled, LOTUSat-1 satellite will be launched in 2019. By 2020, when modern technical infrastructures for satellite research, assembly, integration and testing are ready to be operated, Vietnam will develop "made in Vietnam" satellite LOTUSat-2.
"With these two advanced radar satellites, Vietnam is able to observe all of national territory and  sea border in all weather conditions with high resolution, which can contribute to mitigate the impact of climate change and natural disasters, manage natural resources and environment monitoring", Assoc. Prof. Dr. Pham Anh Tuan said.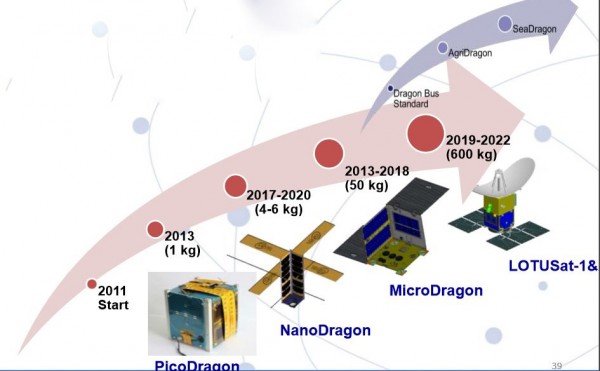 Satellite development program of VNSC
In addition, VNSC is also setting to launch astronomical observatories in Nha Trang and Hoa Lac to promote space science researching activities. Particularly, Space Museum in Hoa Lac in conjunction with Planetarium of Vietnam Space Center Project will put into service in 2018 to disseminate the knowledge as well as the passion of space science and technology to the community, especially the young generation.
Enhancing international cooperation
With the aim of promoting the research and application of space technology as well as having it to practically and effectively serve industrialization, modernization and sustainable socio-economic development of Vietnam, over the past several years, VNSC has had extensive cooperative relations with the world – leading countries in the field of space technology, such as the United States, Japan, France, South Korea, Israel, Thailand, etc.
Besides, VNSC is also an official member of international organizations such as the International Space Federation – IAF; Committee on Earth Observation Satellites – CEOS; Group on Earth Observations – GEO; Asia-Pacific Space Agencies Forum; Global Learning and Observation to Benefit the Environment – GLOBE, a program sponsored by the U.S. Government and NASA for elementary and secondary school students with more than 112 participating countries.
Signing Ceremonies between VNSC and the U.S. & Japanese partners
At the workshop, the Contract Negotiation Minutes Signing Ceremony with Japanese bidder and the Memorandum of Understanding Signing Ceremony between VNSC and IMSG (USA) were also conducted. For over the past 15 years, IMSG has contributed positively to the U.S. Remote Sensing Satellite Program. With the expertise base in remote sensing, IMSG has provided VNSC with the developing of integrated aperture radar (SAR) applications to prepare for LOTUSat. The Bilateral cooperation agreement began with the deployment of a high-performance computing system at VNSC and testing of SAR applications in disaster and climate change management.
In the period 2017 – 2022, along with completing the project as planned, VNSC also determined to focus on research and development of space science and technology in 4 main areas including: Space Technology; Application of Space Technology; Space Science and Astrophysics; Undergraduate and Postgraduate Education; Space knowledge dissemination.
                                                                             Vietnam National Satellite Center