From 7th to 9th May 2018 in Hanoi, Vietnam National Space Center (VNSC) – Vietnam Academy of Science and Technology (VAST) coordinated with GLOBE Regional Coordination Office for Asia-Pacific to organize "GLOBE Asia-Pacific Regional Meeting of Country Coordinators 2018" with the participation of representatives from 16 countries in the region.
The meeting aims to evaluate the results of the Global Learning and Observation to Benefit the Environment program of member countries, to discuss about the potential of regional and inter-regional cooperation as well as to update new knowledge to develop GLOBE program (The Global Learning and Observation to Benefit the Environment) and the next years plan for Asia-Pacific region.
GLOBE is the International science and education program for students (aged 6 to 18 years old), teachers and scientists learning together about global environment. The program is a linked program with organizational and operational structure, sponsored by National Aeronautics and Space Administration (NASA), National Oceanic and Atmospheric Administration (NOAA) and National Science Foundation (NSF), supported by United States Department of State and implemented by GLOBE Implementation Office through a Cooperation Agreement between NASA and University Corporation for Atmospheric Research.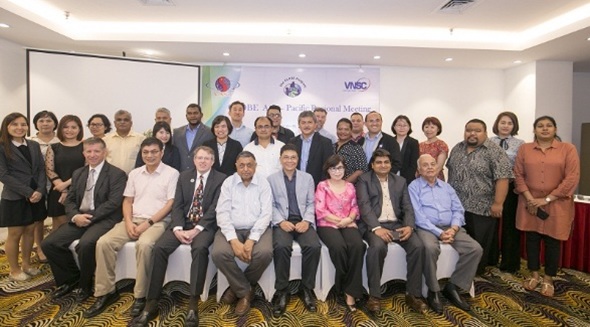 Representatives participating in GLOBE Asia-Pacific Regional Meeting of Country Coordinators 2018
GLOBE program was established in 1995 and its network has spanned to 113 countries working together to train nearly 60,000 teachers and 2,000 students to collect data and raise awareness about the Earth's environment. Through this program, Vietnamese students will share their data with students in the United States and other countries around the world.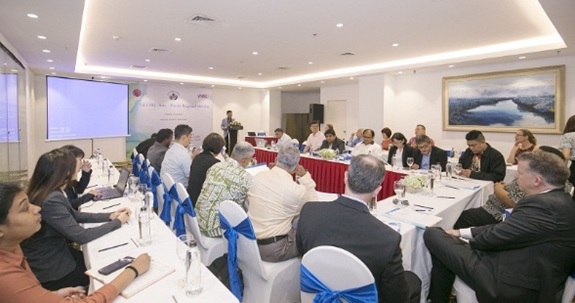 Mr. Vu Anh Tuan – Deputy Director General of VNSC giving opening speech
GLOBE program has been piloted at some Secondary schools and High schools in Hanoi such as Hanoi – Amsterdam High School, Thuc Nghiem Secondary School, Nguyen Tat Thanh Secondary and High School since the term 2017-2018, with positive results.
With experience and modern solutions from NASA, the program has brought a great progress in raising awareness and changing the actions of the community, in building human resources and educating young generation of Vietnam in using space technology to protect the environment.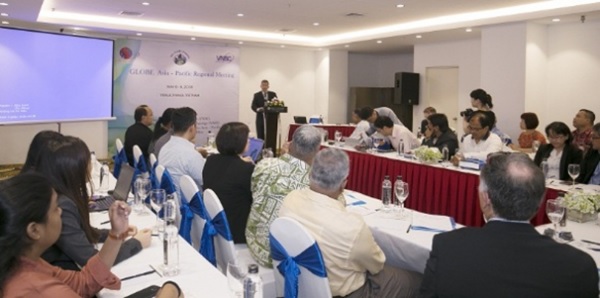 Country Representatives sharing experiences in implementing GLOBE program
The schools eager to participate in the program should register at GLOBE Vietnam Office – Vietnam National Space Center. Participating in the program, these schools will be provided free GLOBE training manual document and some practical tools such as meteorological tents; thermometer for measuring air temperature and water; PH meter, etc.
Before the meeting, on 5th May, 2018, VNSC held a GLOBE 2018 training workshop for teachers from more than 20 schools with several topics such as Atmosphere, Hydrology and Soil Protocols as well as Introduction on Website of GLOBE Program and uploading data in the act of expanding the model for human resources development and educating young generation using space technology to protect the environment.