On June 11, 2019, in Hoa Lac Observatory, Vietnam National Space Center (Vietnam Academy of Science and Technology) in cooperation with the US Embassy held the talk show named "Mars Exploration". Joining the event, there were Mr. Charles Frank Bolden Jr. – Former NASA Administrator, Former Astronaut who travelled 4 times into orbit, Envoy for Space of the US Department of State's Science and students from primary schools, middle schools, and high schools in Hanoi.
From Vietnam National Space Center, there was Mr. Vu Viet Phuong, Vice Director General who attended and chaired the show.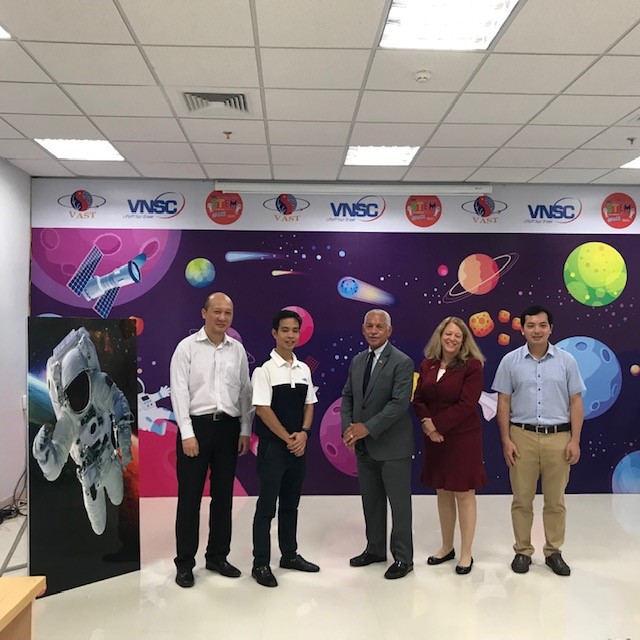 Photo of Mr. Charles Frank Bolden Jr. and VNSC leaders taken at the Space STEM classroom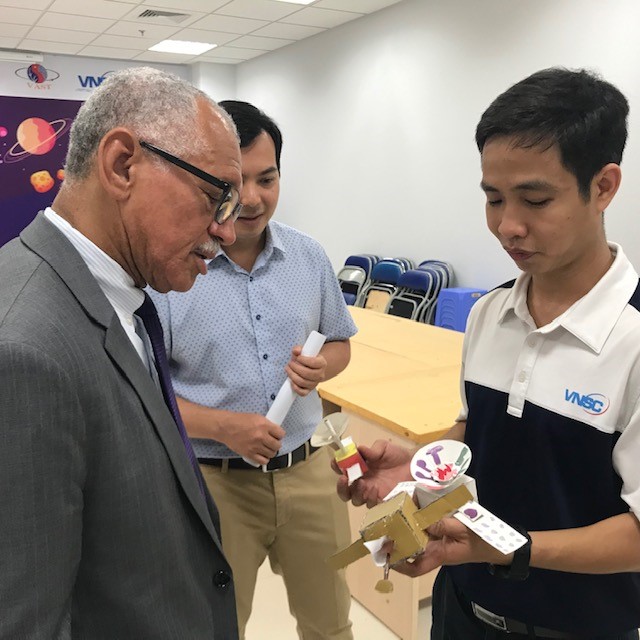 Mr. Le Xuan Huy, Head of Department of Space Systems Design presenting STEM students' results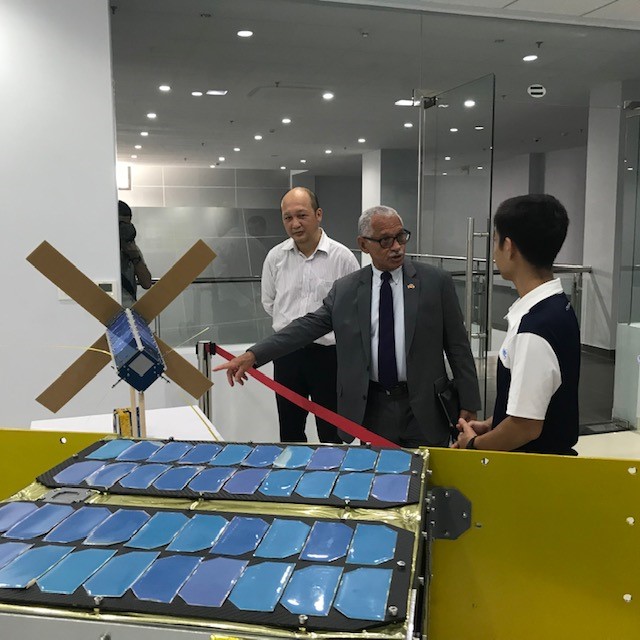 Mr. Charles Bolden visiting exhibition room in Hoa Lac observatory where some VNSC satellite models are placed
"Who believes human will go to Mars in 2030?" – Mr. Charles Bolden started the talk show "Mars Exploration". The question drew a lot of attention and answers from a vast number of students and teachers attending the show. To continue the story about Mars, Mr. Bolden shared the feeling when he first travelled into orbit. "It took only 8 minutes to bring me into space, however, for the first 2 minutes and a half I felt such strong turbulence, but after that there was a soft feeling like we were in a limousine. Normally people think that being in the ISS is like floating but actually it was not really like that. We could sit still, just a bit drifting in the air. And to move, we needed to find something to hold on. In the ISS, I could only see a part of the Earth, some blur lines and mostly immense oceans. It was really overwhelming."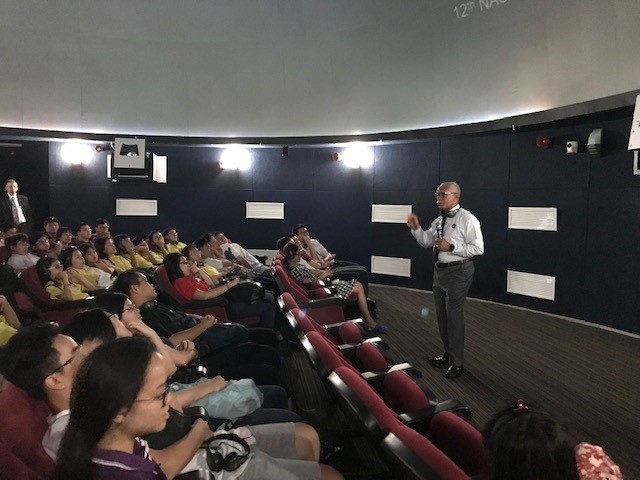 The talk show was held inside Hoa Lac Planetarium
To help the students to understand further about space and Mars, in the presentation, Mr. Charles Bolden introduced 3 key science themes including: Protect and Improve Life on Earth, Search for Life Elsewhere, Discover Secrets of the Universe. During the presentation, Mr. Bolden also gave information about NASA's Mars exploration campaigns, orbiters and rovers along with their launch time.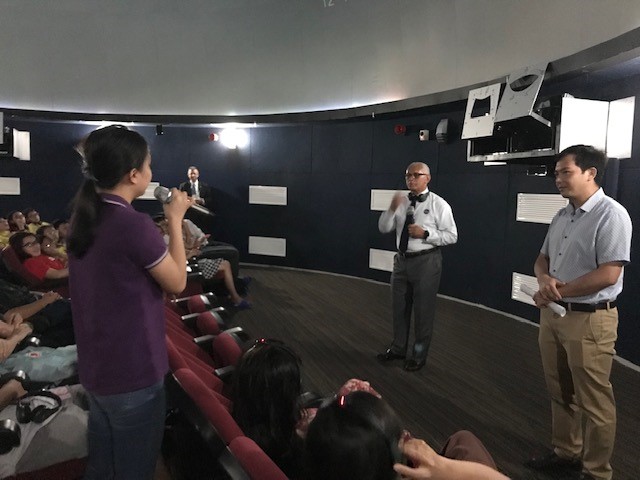 A student giving questions to Mr. Bolden
"What are the requirements for people who want to go to space?" – A question from a teacher drew special interest from Mr. Bolden. He shared: "One of the first requirements is that person must be working for NASA for at least 3 years. Besides, he or she must be smart, healthy, joining several public activities, good at STEM subjects and especially mustn't have kidney stone because in some cases it can be very dangerous and the person must go back to the Earth immediately".
Along with Mars information, Mr. Bolden also talked about the benefits that space exploration could bring us and some methods and programmes that NASA is currently organizing to attract young generations to involve in space sector.
Although the time given was limited, the students said they were very much impressed with the information shared by Mr. Charles Frank Bolden Jr. – Former NASA Administrator. Through the presentation, they felt inspired and passionate in space research and exploration. This was told to be a memorable event./.