On Jan 11, 2018, Study Team of Ministry of Economy, Trade and Industry of Japan (METI Survey Team) and Vietnam National Space Center (VNSC)/Vietnam Academy of Science And Technology (VAST) co-organized a Workshop "Proposal for Vietnam's long term master plan for earth observation using satellites" in Hanoi.
Attending the workshop there were about 100 delegates and experts from Ministries and Departments related to space technology such as Ministry of Science and Technology, Ministry of Natural Resources and Environment, Ministry of Agriculture and Rural Development, Ministry of Information and Communications, Ministry of National Defense, Ministry of Public Security, Vietnam Academy of Science And Technology, etc.
Currently, Vietnam has actively implemented "Strategy for Research and Application of Space Technology until 2020" approved by Prime Minister in 2006. In order to create a basis for advising Vietnamese Government and based on extensive strategic with Japan in the field of space technology, Ministry of Economy, Trade and Industry of Japan sent METI Study Team to carry out a survey and propose long term master plan for earth observation using satellites in the next period.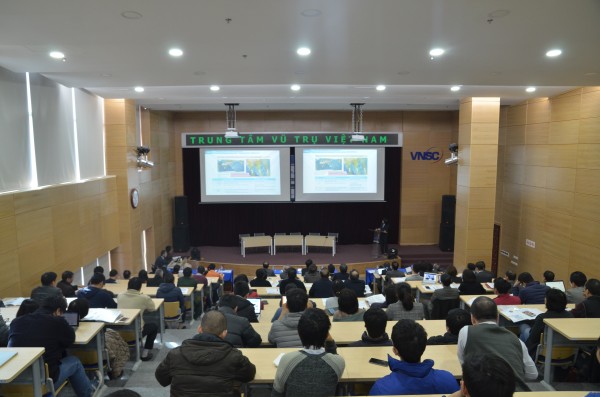 Specifically, from June to December 2017 METI Study Team in collaboration with VNSC conducted surveys in related Ministries, Agencies, Research Institutes, Universities and Companies for the purpose of recommending and proposing to Vietnamese Government a long-term roadmap for Earth Observation systems by Vietnam Satellites until 2040.
Presenting at the workshop, METI Study Team gave an overview and evaluation of current status of Earth Observation using Satellites in Vietnam. Based on surveys and analysis, Earth observation satellite data is being used mainly in the fields of forestry, agriculture, land resource management, natural disaster prevention, etc. However, most of the data is at medium or low resolution so it does not meet the requirements of socio-economic development. From the above reality and based on available infrastructure, METI study team make the roadmap for Earth Observation Satellite Development and Application for Vietnam. At the same time, METI study team also analyzes the benefits of Vietnam having its own satellite: readiness (shooting area), ability to respond to emergencies, periodic observations, international contributions, etc. In addition, METI study team has conducted other studies on the possibility of using radar and optical satellite images in Vietnam to make use of the most technical infrastructure which is invested in Vietnam Space Center project.
Based on these analyzes, METI study Team has recommended that Vietnam need to continue researching and manufacturing Earth observation satellites and also have long-term strategy for Earth observation satellites development and application. This is one of the key factors for international integration to step by step make Vietnam become a country that effectively applies Earth observation satellite technology for socio-economic development and public security in Southeast Asia.
Comments at the workshop will be finalized and completed by METI study Team in the final report and submitted to the relevant Japanese and Vietnamese authorities to contribute to the development of long-term strategy for space science and technology of Vietnam in the future.