On March 28, 2018, at Vietnam National Space Center (VNSC) – Vietnam Academy of Science and Technology (VAST), IHI Aerospace Company – IHI Corporation (Japan) gifted a scale model of Epsilon 3 launch vehicle in contribution to Vietnam Space Museum.
Epsilon is a Japanese solid-fuel rocket designed to replace the M5, which has been retired since 2006. Currently, Epsilon is the most modern rocket in Japan.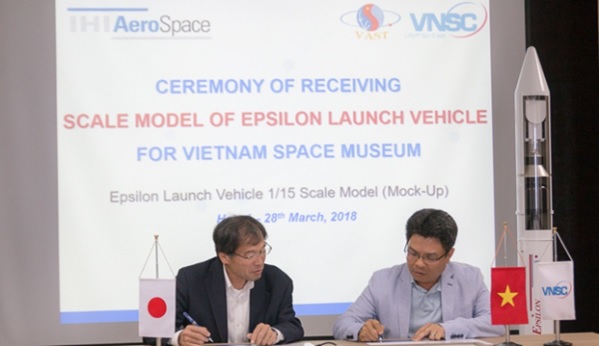 Assoc. Prof. Pham Anh Tuan, Director General of Vietnam National Space Center and Mr. Atsushi Murakami – Representative of IHI Aerospace Company signing Acceptance Ceremony Memorandum.
Founded in Tokyo in 1953, IHI is a global Corporation working in the fields of engineering, construction and manufacturing in many key industrial sectors. IHI has officially invested to Vietnam since 2002 in many important projects. As a subsidiary company in IHI Corporation, IHI Aerospace Company specializes in rocket manufacturing. It is expected that by the end of 2018, Epsilon 3 rocket made by IHI will launch Vietnam's MicroDragon satellite into orbit.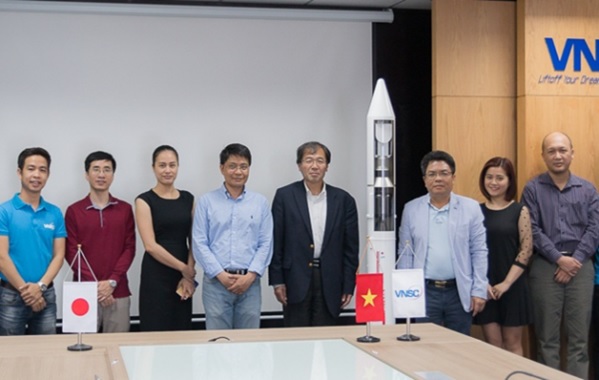 Memorial photo taken next to scale model of Epsilon 3 launch vehicle
Speaking at the ceremony, representative of Vietnam National Space Center shared that the scale model of Epsilon 3 launch vehicle will be exhibited at a prominent position in Vietnam Space Museum. Along with other artifacts, this scale model will contribute to raise the passion for space science research of young people in Vietnam.
Vietnam Space Museum is one part in Vietnam Space Center project, is in construction at Hoa Lac Hi-Tech Park with total indoor area of 1,675 square meters and outdoor area of 3,500 square meters. The museum exhibits not only artifacts but also variety of interactive activities, leading visitors to self-explore through the devices, the observatory as well as by observing engineers doing their job of satellite operation and control.