On 15th October 2019, Committee on Earth Observation Satellite (CEOS – 2019) has performed the plenary session in Hanoi, to discuss and decide the activities, plans and strategies of CEOS short and long term; developing and implementing regional and international multilateral cooperation missions.
Dr. Pham Anh Tuan, Director General of Vietnam National Space Center (VNSC) – Vietnam Academy of Science and Technology (VAST), chairman of CEOS 2019 chaired the opening session. Prof. Tran Tuan Anh – Vice President of VAST and 30 CEOS members from different countries such as USA, Japan, Australia, Italy, France, England…were attending the opening session.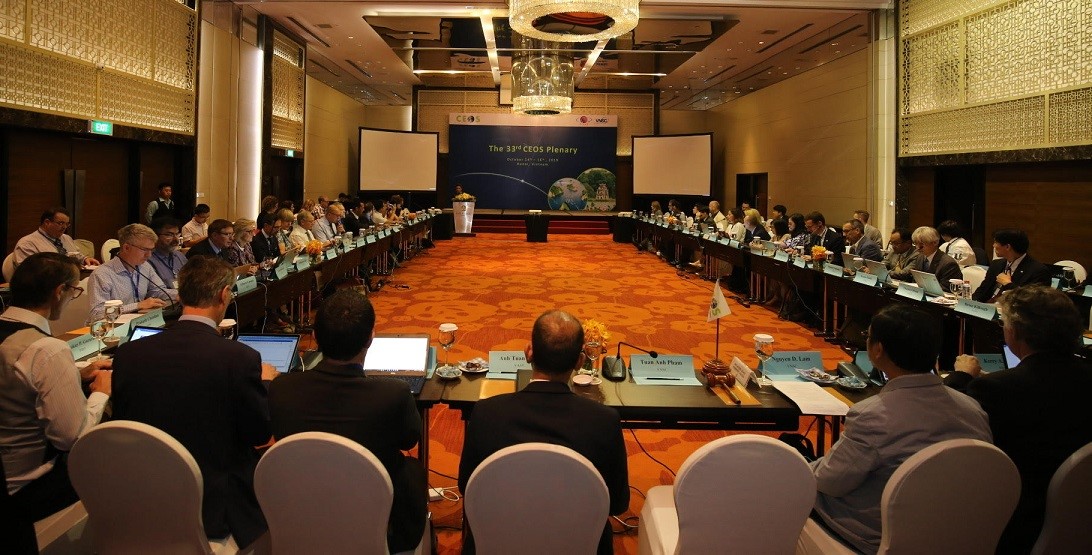 33rd CEOS Plenary in Hanoi, Vietnam
Prof. Tran Tuan Anh, Vice President of VAST congratulated the success of VNSC as Chairman of CEOS 2019 at the opening session :"We appreciate the work that VNSC has done during the CEOS Chair term 2018 – 2019, especially with two main initiatives: Carbon observations including forested regions and Observations for agriculture. These applications are very practical in assessing Vietnam's agricultural development and will be expanded in other countries in the Mekong region".
The Committee on Earth Observation Satellite (CEOS) is the focal point for coordinating international activities related to space and Earth observation. CEOS encourages interaction, support, and complementarity among Earth observation satellite systems through coordinated planning, promotion of non-discriminatory data access, setting of data standards, and develop data compatible with products, services, and applications.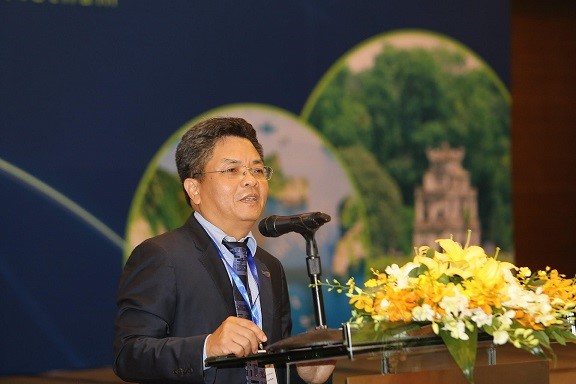 Dr. Pham Anh Tuan, Director General of VNSC/VAST- Chairman of CEOS 2019 delivered welcome speech
 In 2013, Vietnam Academy of Science and Technology was recognized as an official member of CEOS (assigning Vietnam Space Center as a contact point) and has actively participated in plenary meetings since then and important meetings of CEOS working groups such as capacity development, disaster, climate…. This positive involvement to CEOS has brought many benefits to Vietnam; specifically, Vietnam Datacube System and the two initiatives of VNSC are being supported by CEOS members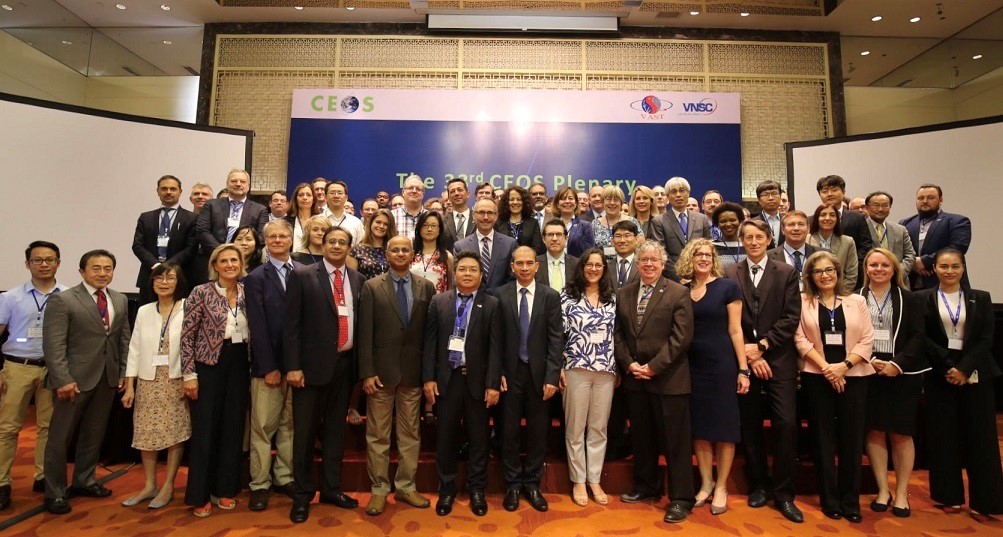 Delegates took photos at the Opening Ceremony of CEOS 2019
At the opening session of the CEOS Plenary 2019, Dr. Pham Anh Tuan affirmed that "Before becoming CEOS Chair, VNSC was a young member of this organization and had not many opportunities to involve deeply in working Groups. However, with the support and trust of CEOS members, VNSC has continuously organized important workshops that generated successful outcomes in Vietnam, fulfilling our role of 2019 CEOS chair. The two initiatives proposed by Vietnam will continue to be implemented with the enthusiastic support of CEOS members".
On this occasion, the 2020 CEOS Chair will also be handed over to the Indian Space Research Organization (ISRO).