According to Director General of Vietnam National Satellite Center (VNSC), Vietnam Academy of Science and Technology (VAST) Assoc. Prof. Dr. Pham Anh Tuan, during his visit to Japan in mid-October 2014, Deputy Prime Minister Nguyen Xuan Phuc and high-ranked delegation of Vietnamese Government took the time to visit Japan Aerospace Exploration Agency (JAXA) and Tsukuba Space Center in Ibaraki Prefecture.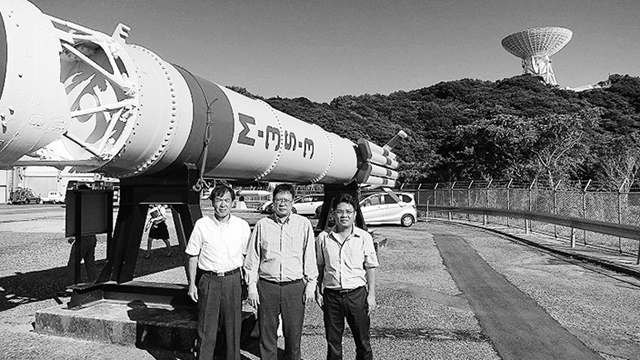 Here, Deputy Prime Minister spoke highly of the effective cooperation between VAST and JAXA from 2006 to date in the research and application of space technology. Apart from helping Vietnam to train high quality human resources in space technology (36 Masters until 2016), Japan has also assisted VAST in implementing some scientific tests in KIBO Laboratory of the International Space Station, which helped Vietnam successfully launched the PicoDragon satellite that operated well in space. At the same time, Japan has also coordinated with Vietnam to successfully organize the 20th Asia-Pacific Regional Space Agency Forum (APRSAF – 20) on May 12, 2013 in Hanoi. During the visit, Deputy Prime Minister Nguyen Xuan Phuc also witnessed the signing of a joint statement on strengthening the partnership between the VAST and JAXA until 2020. According to it, the two sides shall realize future cooperation potential and advantages such as: in Earth observation satellites and applications; small satellite development and applications; joint research towards the use of Japanese experimental module Kibo;  applications of Global Navigation Satellite System…Particularly, the two sides will deploy and execute the Vietnam Space Center Project in Hoa Lac High-tech Park on schedule as this is the most important part in the "Strategy for research and applications of space technology until 2020"of Vietnam. Starting from September 2012 to date, the Project has completed some basic works including leveling and organization of bidding for construction work components.
Vietnam Space Center Project is a particularly important project, with total investment of 54 billion JPY financed by ODA from Japanese Government and counterpart fund from Vietnam. The Project was synchronously invested into three segments: technical infrastructure and equipment; technology transfer, capacity building in space technology. Regarding technical infrastructure and equipment, the Project will invest in building the Satellite Assembly, Integration and Test (AIT) Center, Ground station; Research & Development (R&D) Centers, Public Education Center; Management Center Building, Space Museum and The Observatory. Japanese experts will also transfer the technology and support Vietnam in self-manufacturing two small earth observation satellites using Synthetic Aperture Radar (SAR) technology with high resolution and assist Vietnam in the application of satellite image data.
Accordingly, until 2020, when Vietnam Space Center is officially put into operation there will be 350 trained scientific staff members, experts and managers in the field of space technology. In both 2013 and 2014, Vietnam National Satellite Center (the receiving and executing agency of the Project) sent 22 staff members to study master's program at five universities in Japan. Upon completing the construction of Vietnam Space Center, we will have the capacity to master the technology and self-manufacture small earth observation satellites capable to take images of the whole territory of Vietnam in all weather conditions using radar sensor technology. On the other hand, more importantly, Vietnam will actively build and process satellite image data for the benefit of monitoring and early warning of natural disasters; early forecast of agricultural output, updating electronic map system for the management and planning of land use as well as research and warning to prevent Earth-threatening global climate change.
Through the visitation and working with VAST, JAXA President Dr.  Naoki Okumura as well as JAXA Director of International Relations Mr. Tetsuo Tanaka emphasized that, although science (especially space technology) in Vietnam is still young, however with the strengthening of cooperation between Japan and Vietnam since 2006 and the implementation of research directions in recent years, Vietnam has made significant progress in this field. The signing of joint declaration on strengthening the partnership between VAST and JAXA in 2014 has opened potential and long-term prospects for cooperation between Vietnam and Japan in the conquest of outer space. The two sides are working closely to ensure the completion of construction works on schedule and at the same time, focus on training high-quality human resources to make sure in 2020, Vietnam has a leading space center of its kind in Southeast Asia.
MINH CHÂU
(According to Nhân Dân online)