From 12th to 16th October, Prof. Dr. Pham Anh Tuan – Director of Vietnam National Satellite Center, Vietnam Academy of Science and Technology leads the delegation attending the 66th International Astronautical Congress – IAC 2015 in Jerusalem, Israel.
The IAC is the one time of the year when all space actors come together. Global, multidisciplinary and covering all space sectors and topics, it offers everyone the latest space information, developments but above all contacts and potential partnerships.

Each year, the IAC changes country, theme and local organiser, enabling all to learn more about, and be a part of the world space scene.

Technical sessions – presenting scientific and technological breakthroughs, these provide the latest advances in space science, research, technology, exploration, regulation and education
Plenary programme – the latest trends in space research, technology and exploration presented by the people who drive them, these include expert discussion panels, highlight lectures on dedicates topics and breaking news on the latest space developments
Associated events – organised to compliment the content of the IAC, covering niche topics or the needs of dedicated stakeholders within the space community
Exhibition – the one place where the space sector showcases the latest it offers and develops
Social programme – introducing the local space and cultural environment
This year's theme is about "Space – The Gateway for Mankind's Future", held in Jerusalem International Convention Center. Attending the Congress this time, the Vietnam delegation had 4 people with the mission to boost our campaigning for hosting IAC 2020 in Hanoi, Vietnam. This campaigning in Jerusalem received good feedbacks and supports from the members of IAF – International Astronautical Federation.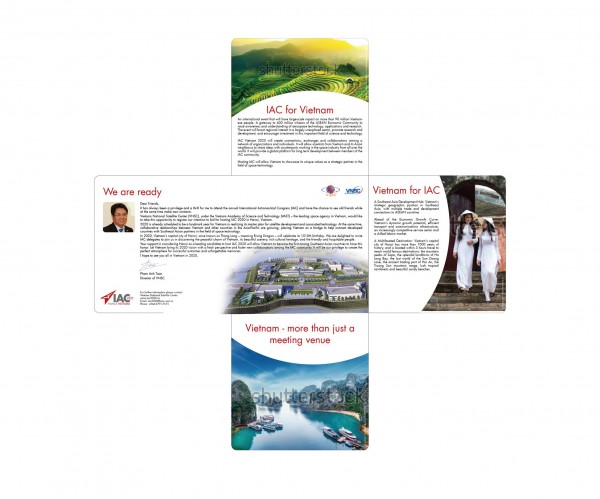 At the Congress, Prof. Dr. Pham Anh Tuan delivered a report themed "Human resource programs for space technology and application in Vietnam" to for the international space community. After the trip, the Vietnam delegation gained precious information about approach, the strategy of campaigning  and organizing method from the experienced countries hosting IAC.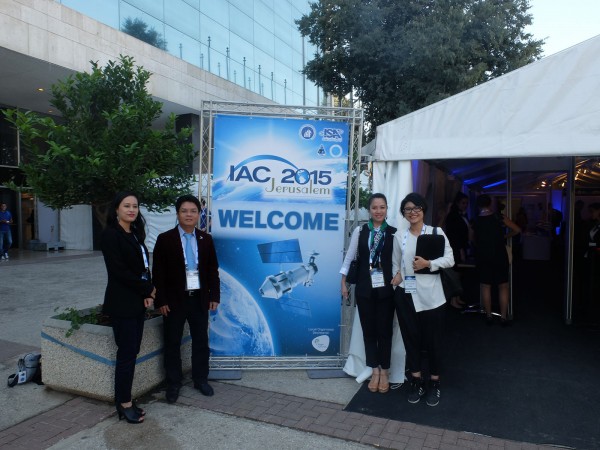 IAC 2016 will take place in Guadalaijara, Mexico from 26th to 30th September, Vietnam National Satellite Center plans to continue campaining for hosting IAC 2020 with a desire to receive extensive support  from the international space community.
MINH DUC, PHAN LINH