History of Establishment and Development

The period before 2008
In June/2006, the Prime Minister approved "THE STRATEGY ON RESEARCH INTO, AND APPLICATION OF, AEROSPACE TECHNOLOGY UP TO 2020"
In 2007, Dr. Pham Anh Tuan, along with other colleagues, actively collaborated with Japan Aerospace Exploration Agency (JAXA) to boot the PicoDragon satellite project which was carried out in Vietnam all the development process including research, design, manufacturing and testing. This is a significance milestone for the Made in Vietnam satellite's strategy
In 2008, 5 engineers of Vietnam Academy of Space and Technology (VAST) have been sent to the training on satellite development at Tsukuba Space Center, Japan for the first time.
The period of 2008 – 2010
By 2008, to implement "THE STRATEGY ON RESEARCH INTO, AND APPLICATION OF, AEROSPACE TECHNOLOGY UP TO 2020" VAST has proposed the strategy for  infrastructure construction of Space Technology at Hoa Lac Hi-Tech Park by coordinating with the JETRO consulting expertises (Japan) to make a pre-feasible report of project. Dr.Pham Anh Tuan is the leader of VAST implementing this intiative.
On 9th April 2009, based on the pre-feasible report of Vietnam Space Center project, the Prime Minister concluded: "This is a key investment project, creating the core basis for the implementation of space technology research and development, education, applications and international cooperation in Space technology, to implement the strategy of reseach and applications of Space technology until 2020."
The period of 2011 – 2015
On 16th September 2011, Vietnam National Satellite Center (VNSC) under VAST established following to decision number 1611/QĐ-TTg of the Prime Minister. VNSC is responsible for management, implementation and receiving Vietnam Space Center project.
On November 2011, Vietnam Government and Japan Government signed the ODA loan agreement for Vietnam Space Center project.
On 19th September 2012, in the Letter of Congratulation, Deputy Prime Minister Nguyen Thien Nhan states that: "Vietnam Space Center Project is a national key project and is one of the biggest investment project in science and technology in Vietnam in the recent 35 years. The Government will fully support for the implementation of the project to be on schedule, which will contribute an essential part in the implementation of "the strategy on research into, and application of, aerospace technology up to 2020". The project is also the beginning of the strategic cooperation between Vietnam and Japan in space technology".
On 19th November 2013, 1 kg satellite PicoDragon, researched and manufactured by VNSC's engineers, has become the first "made-in-Vietnam" satellite operating in orbit.
Until September 2015, 35 students were sent to study Master of satellite technology in Japan and engaged in manufacturing 50-kg satellite MicroDragon, while 11 students have graduated.
The period of 2016 – 2020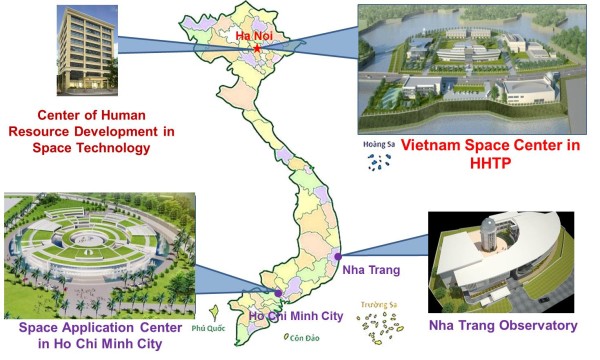 Completed Vietnam Space Centre in Hoa Lac High Tech Park (2018), Centre for Human Resource Development and Space Technology transfer in Hanoi (2016), Nha Trang Observatory (2017) and Aerospace Application Centre in Ho Chi Minh City (2020),
Consolidating the organizational in Hanoi, Ho Chi Minh City and Nha Trang as well as human resources in terms of both quantity and quality which is sufficient to meet growing demand,
Assigning 50 staffs to get involved in the design and manufacture of satellites in Japan and 32 staffs being trained Space Technology application in Japan.
Receiving technology transfer of two Earth observation satellites which uses Synthetic Aperture Radars (SAR) with high resolution, operating in all weather conditions especially the second satellite will be assembled, integrated and tested in Vietnam Space Center.